Anne McElvoy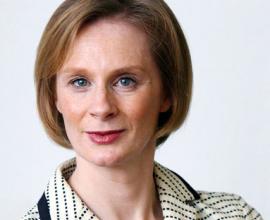 Former Executive editor of the Evening Standard, she reported for the Times on the fall of the Berlin Wall and appears frequently on Newsnight and Question Time.
BIOGRAPHY
Anne McElvoy is a former foreign correspondent, now British journalist for the Economist and Evening Standard. She is also a broadcaster on BBC Radio 3.
Born in 1965 in Lanchester, she studied German and Philosophy at Wadham College, Oxford. McElvoy then spent a year in Berlin studying German literature and censorship. She is married to Martin Ivens, journalist and editor of the Sunday Times.
She joined The Times in 1988, covering the major political, social and economic changes in Eastern Europe (fall of the Berlin Wall, German unification, dissolution of the soviet bloc) , and later reporting from Moscow.
- 1995: Deputy Editor at The Spectator and columnist at The Daily Telegraph
- 1997: Associate Editor at The Independent
- 2002: Executive Director at the Evening Standard, where she still contributes a weekly column on domestic and international politics
- 2009: Journalist at The Economist
- 2009: Regular presenter for Night Waves, an art and ideas magazine on BBC3
- 2009 :Regular panellist on the BBC Radio 4 Moral Maze,  BBC2 Review Show, Newsnight and Question Time
- 2010: Public Policy Editor at The Economist
Publications
- The Saddled Cow: East Germany's life & Legacy, 1992
- Man without a Face: The Autobiography of Communism's Greatest Spymaster, Anne McElvoy, Markus Wolf (the spymaster), 1997

- Memoirs of a Spymaster: The Man Who Waged a Secret War Against the West, Anne McElvoy, Markus Wolf, 1998
Anne McElvoy's videos: How to Change the World, Age of Innocence