Athene Donald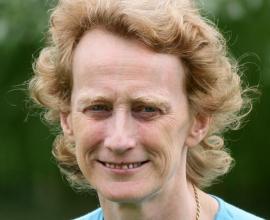 Physicist and 'one of Britain's 100 most powerful women' (Telegraph) Athene Donald is best-known for her pioneering research into Alzheimer's disease, hip replacements and prosthetic limbs.
BIOGRAPHY
Athene Donald, also known as Professor Dame Athene Margaret Donald was born in 1953 and first studied Theoretical Physics at Girton College, Cambridge before turning to Experimental Physics after her PhD in 1977. She worked at Cornell University as postdoctoral associate until 1981 when she returned to Cambridge and eventually became Professor of Experimental Physics in 1998.
Athene Donald's research focuses on Biological and Soft Systems, in particular the idea of soft matter physics (the different physical states of condensed matter – polymers, liquids, gels, foams), on both synthetic and organic matter, but looking at practical applications to living organisms.
Honours
Donald is the director of Cambridge's Women in Science, Engineering and Technology Initiative and is the university's Gender Equality Champion. She also chairs the Athena Forum, which works to advance the career progression of women in STEM (Science, Technology & Mathematics) in the UK, and is a member of the Equality and Diversity Committee in Cambridge.
Among many other awards and distinctions for women in science, Athene Donald was also appointed:
- Dame Commander of the Order of the British Empire (2010)
- Trustee of the National Museum of Science in Industry (2011)
In recent years she has been more actively involved in education via a variety of institutions for the promotion of science (e.g. Teaching Biological Physics Project).
Athene Donald's videos: Saving Science, Human and Superhuman, A Paradigm of Health