Frank Furedi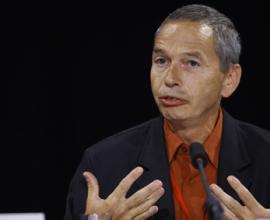 Author of The Politics of Fear, Hungarian-born Frank Furedi was the founder and chairman of the Revolutionary Communist Party and is the most cited sociologist in the UK press.
BIOGRAPHY
Born in 1947 in Budapest, Hungary, Furedi's family emigrated to Canada after the 1956 uprising. He completed his bachelor's degree at McGill University in Montreal, and went on to obtain his MA and PHD at the School of Oriental and African studies in London.
During the 1970s Furedi became involved in radical left-wing politics, and under the pseudonym Frank Richards served as co-founder and chairman of the Revolutionary Communist Party (RCP), which vehemently opposed state intervention in social life.
Formerly professor of sociology at the University of Kent in Canterbury, Furedi's research initially focused on race relations and imperialism. His PHD on the Mau Mau uprising in Kenya inspired his book 'The Mau-Mau War in Perspective, The New Ideology of Imperialism'. More recently, Furedi's work has concentrated on providing a sociological analysis of precautionary culture and risk aversion in Western societies. His books on the subject include Paranoid Parenting and Culture of Fear, which offer an alternative perspective to that of Anthony Giddens and Ulrich Beck.
A supporter of the British Humanist association, Furedi appears regularly in the mainstream media including Newsnight and Radio 4 and is a frequent contributor to the web journal Spiked Online. In 2008 he co-authored a book published by the think tank Civitas titled Licensed to Hug: How Child Protection Policies Are Poisoning the Relationship Between the Generations and Damaging the Voluntary Sector which argued that the increase in police checks such as CRBs has created an undesirable sense of mistrust with regards to child-adult relationships that should be combated by taking a common sense approach whereby we should assume that the vast majority of adults are capable of helping and supporting children. Furedi intends to continue to pursue exploring the issue of authority in his future research: "The search for foundational authority and the contemporary problem of morality are the themes that I will be studying and discussing in the years ahead".
Furedi lives in Faversham with his wife Ann Furedi, who is the Chief Executive of the British Pregnancy Advisory Service, the UK's largest independant abortion provider.
Recent publications
- On Tolerance: The Life Style Wars: A Defence of Moral Independence. 2011
- Wasted: Why Education Isn't Educating. 2009
- Invitation to Terror: The Expanding Empire of the Unknown. 2007
- Where Have All the Intellectuals Gone?: Confronting Twenty-First Century Philistinism 2004
- Therapy Culture: Cultivating Vulnerability in an Uncertain Age 2003
Frank Furedi's videos: The Great Escape, Limits to Liberty, The End of Privacy, Childhood's End, Freedom in Chains