Godfrey Barker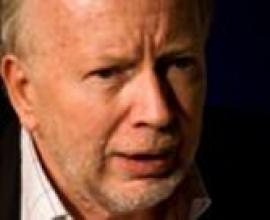 Journalist, art critic and broadcaster Godfrey Barker is the arts correspondent of the Evening Standard and lectures at Sothebys and the Wallace Collection.
BIOGRAPHY
Barker was born in 1945 in Dulwich, London. He studied at Cambridge in the early 1960s and spent a year has spent a year in the United States at Cornell University before coming back to complete a Doctor of Philosophy at Oxford. Barker then started a career in journalism which led him a few years later to write for the Daily Telegraph in 1972 for about 25 years on topics ranging from the arts to home affairs.
Mostly, Godfrey Barker is famous for having spent the last three decades writing as an arts editor and columnist on the international art market, from prices to trends and valuations. He also served as an art market advisor to the British government throughout the 1980s and most of the 1990s.
Over the years, Barker has written for The Times, The Evening Standard, the Economist, Forbes and The Wall Street Journal among others. He has also participated in many radio shows on BBC 4 (Front Row, Today), BBC 3 (Night Waves) and on TV for BBC World Service.
Arts, politics and academia
Godfrey Barker's life has always mixed the arts with political collaborations: from consulting for several governments to being a political journalist.
He is also a lecturer on the history of the art market for Sotheby's and for postgraduate students in the International Studies in History and Business of Art & Culture at the Wallace Collection.
His first book - Vanity Fair: The Rich and the Price of Art - was published in 2008 by Constable and is now being translated in several languages, including across East Asia.
Godfrey Barker's videos: The New Beautiful, Hitler's Art War, Europe After the Reign, The Point of Art, In the Moment, Ugly is over, Beauty is Back?, Imagination, Inc., Lust, Love and the Late Madame Picasso, Art and the Artful, Is Love Real?