You're one step away from starting your free trial.
Daily releases of new ideas from the world's leading thinkers.
Unlimited Access to our full Library of videos and articles.
World-Leading Insight on Philosophy, Science, Politics and Arts.
1000+ articles from the greatest minds in the world.
1000+ videos on the big ideas that really matter.
Courses from the world's top lecturers and Nobel prizewinners.
Podcasts from Philosophy For Our Times.
Free for your first month. Then £7.99($8.99) a month. Cancel anytime.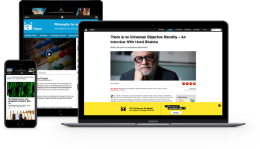 Total to pay now: £0 then £7.99 a month