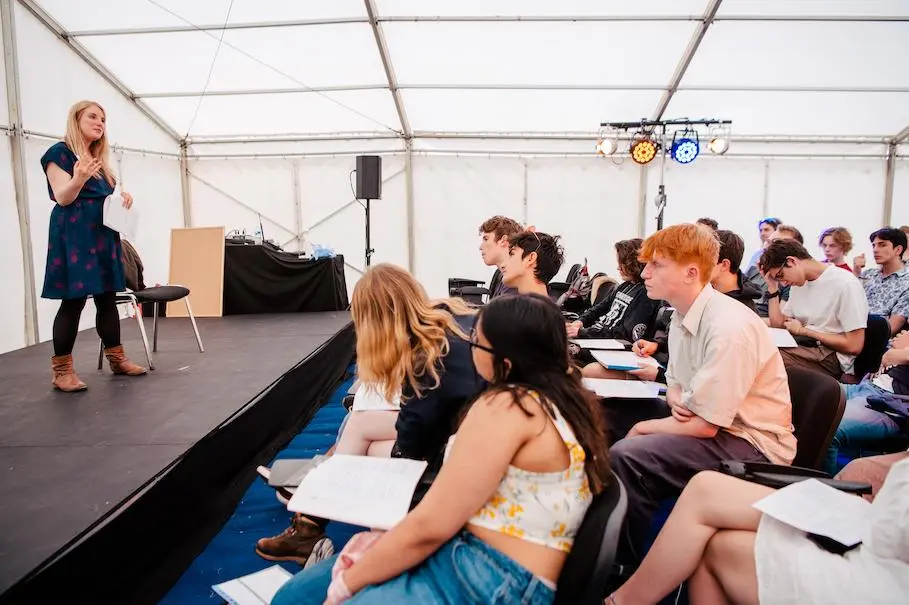 We've been coming to the IAI School for several years and have seen the positive effect it has had on students' university applications, as well as on their skills of critical analysis, confidence in debate and original thinking.
Rufus Duits Head of Philosophy, St Paul's School
iai School Bookings
Our IAI School events are aimed at pre-university students with a keen interest in big ideas and debate. They introduce students to ways of thinking and problem-solving key to both higher education and the world of work.
We encourage teachers to organise school bookings so that the students are able to participate in our interactive workshops.
As well as acting as supervisors during the IAI School events, teachers are given the opportunity to lead their own group discussions and really immerse themselves in the programme. The main festival also provides a space for teachers and students alike to learn from high-profile academics and listen to up and coming artists.
We accommodate as many teachers as the individual school deems necessary, but recommend at least 1 in attendance per every 10 students.
To organise a group booking for your school, please email  education@artandideas.org
Institutional Subscriptions
Join top schools and universities across the world by signing up to an institutional subscription to IAI TV. Our live and online platform offers thousands of videos, articles and podcasts of exclusive talks, debates and sessions led by world-leading thinkers.
All of our latest & library content provides a unique opportunity for students to learn and develop a key interest in areas of philosophy, science, arts and politics that go beyond the national curriculum.
For schools, our educational subscription costs depend on the number of users, starting with a minimum 90% discount.
For more information about institutional access, enquire at  education@artandideas.org