You are about to purchase
An IAI + Dokbox subscription
1000+ Videos
1000+ Articles
Exclusive IAI Podcasts from Philosophy for Our Times
IAI Academy Courses from the world's top lecturers and Nobel Prizewinners:   Two FREE courses.  50% off all the rest.
Daily Updates and Releases from leading voices on IAI News
Fortnightly live events:  Join the conversation with debates, and talks from the world's thought leaders.
Live Speaker Sessions:  talk directly with speakers in exclusive video and sound sessions
Meet and chat to others attending IAI Live events in live video links
Stream thousands of documentaries on DOKBOX, and enjoy regular new releases.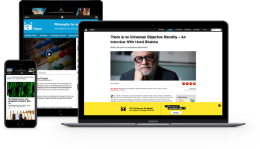 Total to pay now: £0 then £10.99 a month