Introductory offer for new subscribers only.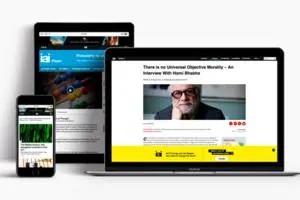 Stay at the cutting edge and delve into a world of big ideas with weekly releases and the IAI's entire library
Explore a world of fascinating stories with full access to Dokbox.tv - subscription usually £3.99 a month
1000+ video debates and talks from the IAI
1000+ articles by leading academics from IAI News
70+ online courses from the IAI Academy
2000+ episodes and feature length documentaries from Dokbox
Weekly releases of new stories from around the world added to Dokbox.
All your questions answered
What's included in the IAI & Dokbox tiers?
The IAI & Dokbox tier includes full access to IAI.tv - all our debates, talks, articles and online courses - and full access to Dokbox.tv - thousands of shows and feature length documentaries.
Is this the tier for me?
If you want to immerse yourself in everything the IAI has to offer AND explore a world of fascinating documentaries with Dokbox, this is the subscription for you. You'll never miss a big idea, and will have thousands of mind-expanding documentaries ready to stream wherever you are.
Can I cancel Dokbox and still access the IAI?
You'll be able to access to Dokbox for as long as your subscribed to the IAI & Dokbox tier. If you decide you want to keep just one part of your subscription, simply email us at subscriptions@artandideas.org and we'll be happy to help you find a different subscription that fits your needs.