50% Off For The First 3 Months!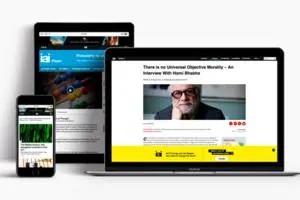 Free access to monthly live events: join the conversation with debates and talks from the world's thought leaders.
Meet and chat with likeminded individuals and world-leading ideators in real time video.
Speaker Sessions: put your questions to the speakers and get real answers, live.
World-Leading Insight: Our contributors are Nobel winners, Pulitzer laureates, political gamechangers and field-defining academics.
Daily New Releases of Video, Articles, Courses and Podcasts from the world's leading thinkers. Big thinking, as it happens.
Unlimited Access to our full library of 3000+ videos and articles - growing every day.
All your questions answered
What does the IAI Premium Live subscription include?
The Premium Live subscription will allow you to explore everything the IAI has to offer. Join us at all of our IAI Live events, get all our latest releases, and explore our entire library of cutting-edge thinking and more than 70 online courses led by international academics and experts.
Is this the subscription for me?
If you want to immerse yourself in everything the IAI has to offer, this is the subscription for you. You'll never miss a new debate, talk or article, and will have access to our entire library of video, writing and online learning.
I am already an IAI subscriber, can I access IAI Live events?
If you hold a Premium Live or IAI & DOKBOX subscription, you will be able to access all future IAI Live events as part of your subscription. If you hold a Standard or Library subscription, you can access IAI Live events by upgrading your subscription from your My Account page, or purchasing a pay-per-view ticket.
Will this subscription allow me to access courses on the IAI Academy?
Yes! Your Premium Live subscription comes with 2 IAI Academy course Tokens as a welcome gift. Each IAI Academy course is accessed using an IAI Token, priced for non-subscribers at £29.99. As a subscriber, you can purchase additional tokens at a 50% discount.