Free for your first month. Introductory offer for new subscribers only.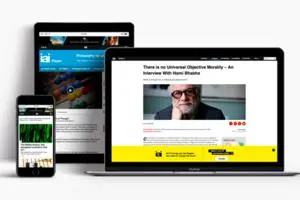 Daily releases of new ideas from the world's leading thinkers.
Unlimited Access to our full Library of videos and articles.
World-Leading Insight on Philosophy, Science, Politics and Arts.
1000+ articles from the greatest minds in the world.
1000+ videos on the big ideas that really matter.
Courses from the world's top lecturers and Nobel prizewinners.
Podcasts from Philosophy For Our Times.
Free for your first month. Then £7.99($8.99)/month. Cancel anytime.
All your questions answered
What does the Standard subscription include?
The Standard subscription gives you access to the latest content from the IAI. You'll be able to enjoy all of our new debates, talks and articles as they're released - and six months before they are archived into the Library - where you can continue to enjoy them with full access to our entire archive.
Is this the subscription for me?
If you want to stay at the cutting-edge of the ideas and discussions shaping our world, this is the subscription for you. Every week you'll have new ideas to explore and new ways of looking at the world we're living in.
Will this subscription allow me to access courses on the IAI Academy?
Yes! Your Standard subscription includes one free course token on the IAI Academy as a welcome gift. Each IAI Academy course is accessed using an IAI Token, priced for non-subscribers at £29.99. With a Standard subscription, you can purchase further tokens at a 50% discount.