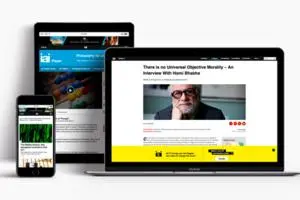 1000+ Videos of Debates and Talks from the world's leading thinkers filmed exclusively for the IAI.  
1000+ Articles from leading contemporary thinkers.
Exclusive IAI Podcasts from Philosophy for Our Times.
IAI Academy Courses from the world's top lecturers and Nobel Prizewinners:  One FREE course.  50% off all the rest.
All your questions answered
What does the Library subscription include?
The Library subscription gives you access to our vast collection of debates, talks and articles from leading international thinkers. This includes everything released more than six months ago, as well as discounted access to more than 70 online courses led by experts in everything from quantum physics to ontology.
What's in the Library?
The IAI Library is packed with energetic discussion and in-depth analysis of the decisive issues in philosophy, science, politics, and the arts collected over the last 10 years of the IAI. It includes video debates and talks, articles, and online courses.
Is this the subscription for me?
Whether you're a researcher hoping to delve deeper into your topic, an educator looking for the tools to illuminate a tricky idea, or simply a life-long learner eager to take your understanding further, this is the subscription for you. Thousands of videos and hundreds of articles will present you with intriguing new takes on the biggest issues of our times. Discounted access to more than 70 online courses led by international experts give you the opportunity to develop and enhance your understanding of the problems preoccupying the world's leading thinkers. If you have any questions, or want to know more about IAI resources for education, email education@artandideas.org.
Will this subscription allow me to access courses on the IAI Academy?
Yes! Your Library subscription includes one free IAI Academy course Token as a welcome gift. Each IAI Academy course is accessed using an IAI Token, priced for non-subscribers at £29.99. With a Library subscription, you can purchase additional tokens at a 50% discount.