You are about to start your Premium Live Subscription.
Free access to monthly live events: join the conversation with debates and talks from the world's thought leaders.
Meet and chat with likeminded individuals and world-leading ideators in real time video.
Speaker Sessions: put your questions to the speakers and get real answers, live.
World-Leading Insight: Our contributors are Nobel winners, Pulitzer laureates, political gamechangers and field-defining academics.
Daily New Releases of Video, Articles, Courses and Podcasts from the world's leading thinkers. Big thinking, as it happens.
Unlimited Access to our full library of 3000+ videos and articles - growing every day.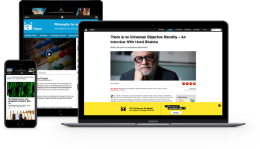 Total to pay now: £9.99