The recent disaster has exposed serious shortcomings in economic strategy and public policy. But the current economic collapse will lead us to a brighter tomorrow, writes Jeffrey Miron. 
The economic and health impacts of the Covid-19 pandemic continue to reverberate around the globe. With 17 million reported cases – 6 million active – and nearly 700,000 deaths worldwide, victory remains distant. Here in the United States, with a second wave hitting many states and generating more cases and deaths each day, the hope for a flattened curve – let alone containment – is meager.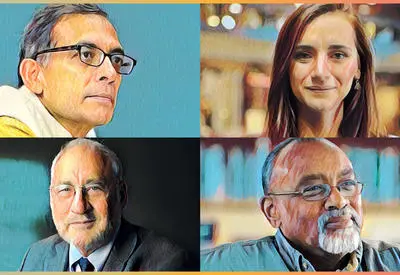 SUGGESTED READING Groundbreaking economics at HowTheLightGetsIn By Four months into this pandemic, however, enough time has passed to draw early lessons from the crisis and perhaps even find silver linings.
Covid-19 magnified private and public-sector inefficiencies, unpreparedness, and policy failures Government agencies scrambled to respond to the new threat, but miscommunication and unnecessary regulatory barriers hamstrung their efforts. Fortunately, the current crisis is leading to widespread rollbacks of unnecessary, restrictive policies. Making these changes permanent will improve future outcomes, and our economic model will become stronger without strangling bureaucracy.
With the benefit of hindsight, we can see how these agencies created unnecessary roadblocks and restructure them in a manner beneficial to future public health and economic prosperity.
Perhaps the greatest impediment to the United States' early coronavirus response was the Food and Drug Administration (FDA). Although on paper the FDA is responsible for "protecting the public health" and "advancing the public health by helping to speed innovations," missteps at the FDA and Department of Health and Human Services (HHS) caused delays in testing, procurement of critical resources, and restrictions in access to healthcare. Now, with the benefit of hindsight, we can see how these agencies created unnecessary roadblocks and restructure them in a manner beneficial to future public health and economic prosperity.
Containment of Covid-19 is difficult without a robust testing infrastructure. But contaminated reagents in the initial diagnostic testing kits produced and distributed by the FDA generated confusion about correct interpretation of the tests. The faulty FDA tests and a prohibition on tests manufactured by private companies – domestically or overseas – led to an overall shortage, prevented many symptomatic individuals from getting tested – one of the reasons for the virus' spread.
The FDA was also slow to address the shortage of ventilators. Even as hospitals resources were stretched thin, FDA regulations prevented the manufacture and use of innovative new alternatives.
A doctor in Mississippi designed ventilators that could be quickly and cheaply made from common materials, but they were not authorized under FDA regulations. Even minor adaptations to already approved medical devices were prohibited until March 24, at which point the United States had already seen more than 1,000 fatalities. Faced with mounting evidence that current policies – including those prohibiting or limiting who could modify or repair critical life-saving equipment – could exacerbate equipment shortages or even lead to patients dying, the government needed to end these restrictive policies.
Another area where regulation slowed the pandemic response was the early shortage of hand sanitizer. Distilleries around the nation transitioned from producing spirits to manufacturing and distributing hand sanitizer. But these efforts ran afoul of regulations controlling the production and sale of alcohol-based cleaning products. The FDA did relax the restrictions, but only after non-trivial delays. More importantly, why were there regulations in place at all?
Since February, the CDC has issued more than 500 EUAs related to the Covid-19 outbreak. These EUAs cover diagnostic tests, personal protective equipment (PPE), ventilators and ventilator components, and more. Allowing individuals and companies to find solutions to new crises through innovation should be encouraged – not prohibited – by government agencies. This newfound willingness to allow rapid development of new treatments, diagnostic tests, and critical supplies is heartening and should, moving forward, be the norm rather than the exception.
A further area where cumbersome regulations hit US patients was in telemedicine. Because of limited interstate reciprocity of licenses, medical professionals in the United States cannot provide treatment outside of the state in which they hold a license. On March 18, Vice President Mike Pence announced that HHS would be issuing new guidance permitting health professionals to practice across state lines. The new rule did not entirely eliminate interstate licensing restrictions but did permit some increased flexibility.
Permission to practice medicine across state lines not only allowed health care workers to travel to virus hotspots, it also dramatically increased the availability and feasibility of telemedicine. Patients who lived in a different state than their doctor were previously unable to use telemedicine resources due to restrictive licensing regulations and faced a choice between risking virus exposure to attend an in-person appointment or go without care.
But doctors in Texas can provide medical advice to a patient in Florida. As the Covid-19 pandemic continues and telemedicine services become an increasingly important element of health care in the US, HHS and state governments should remove restrictive licensing rules and permit physicians to practice across state lines. Twenty-nine states and the District of Columbia currently participate in the Interstate Medical Licensure Compact, designed to streamline the process for medical professionals to practice across different member states. Expanding such programs on a national scale would permit doctors, nurses, and other health professionals to practice medicine where they are needed while avoiding cumbersome, needless regulations. Temporary programs enacted during this pandemic should be made permanent. This would allow medical professionals to respond to market demand and perhaps encourage practice in historically underserved areas of the country.
Not only do the less punitive policies reduce the risk of virus spread, their implementation can also, in the long-term, address critical police reform issues.
Repealing restrictive, unnecessary policies is not the only good thing to come from the Covid-19 pandemic. State and local law enforcement agencies have taken steps – albeit not always successfully – to reduce the population of prisons and jails and eliminate "unnecessary" arrests. To reduce the risk of Covid-19 spreading, many police officers are encouraged to issue tickets for minor nonviolent infractions rather than arrest and imprison people. This is a positive outcome. Many of the violations no longer being punished with jail time are for behavior that should not be criminalized in the first place. Drug prohibition is a prime example. Not only do the less punitive policies reduce the risk of virus spread, their implementation can also, in the long-term, address critical police reform issues.
Currently incarcerated people are seeing expedited parole hearings and sentence reductions for good behavior. While the prison-industrial complex thrives off harsh, punitive sentences, the Covid-19 pandemic may generate a shift towards a new, less carceral, norm. Ideally, early release and arrest reducing policies will remain in place even after Covid-19.
Another silver lining from the global pandemic is "creative destruction," which Schumpeter's 1942 Capitalism, Socialism, and Democracy describes as a, "process of industrial mutation…that incessantly revolutionizes the economic structure from within, incessantly destroying the old one, incessantly creating a new one." Covid-19 threatens to revolutionize the economic structure. Millions have lost jobs as companies shut down or find new ways to serve customers, and many businesses have failed.
While the negative impact on failed businesses and their laid-off employees is undeniable, many other businesses have managed to survive or even thrive. What differentiates a success story and a failure? Many factors, but chief among them is innovation and adaptation. High-end dining establishments struggled to pivot towards pared down take-out and delivery menus while paying rent on empty dining rooms. Meanwhile, cheaper takeout restaurants faced little lost revenue from dine-in customers while already having established protocols for food delivery.
A sudden reorientation of broad swaths of the economy will challenge businesses and workers, but also ensure that only the healthiest organizations survive.
Restaurants and small retailers are not the only ones at risk of Schumpeter's gale. Colleges and universities across the country are developing distance-learning models. This approach is unsatisfactory to many, since socialization, networking, and experience of living on a campus are significant parts of college attendance. But on-line education is also much cheaper, which allows provision of quality education to a much broader audience going forward.
One sector that saw substantial growth due to Covid-19 was delivery services. As people isolated themselves at home, delivery of food, medicine, clothes, and all manner of other goods became a lifeline. The initial supply chain stumbles reemphasized the need for nimble logistical organization. Concerns about transmission within offices forced many white-collar employees to work remotely, and the successes of that transition thus far may indicate a longer-term shift in how work is done in the internet age. This flexibility saves commuting costs and facilitates child or elder care for many families.
It will be years before the full impact of Covid-19 is apparent. The toll – in lives and in dollars – will be large. But despite the gravity of the situation, some positives remain. Witnessing how unnecessary regulations hamper disaster response has led to broad reexaminations of public policy. A sudden reorientation of broad swaths of the economy will challenge businesses and workers, but also ensure that only the healthiest organizations survive and speed the transition to the future of work. Covid-19 is changing the world as we know it.