Arrogance blinded the West to the potential benefits of mask-wearing. Only now are Western countries adopting the strategy that Eastern countries embraced from the beginning of the Covid-19 outbreak. We should be very wary of the underlying racism that led the West to resist face-masks, and be humble and democratic in assessing evidence.
It feels like I have lived through the Covid-19 outbreak twice, first in Hong Kong during the Lunar New Year in January, and now in San Francisco. Across the world, most countries are adopting similar preventative strategies, including hand-washing, physical distancing and quarantine. But there is one medical technique that has divided the world East from West: mask-wearing.
The opposing attitudes to mask-wearing expose not only different public health and cultural responses to this pandemic, but more potently it reveals an intersecting current of epistemic arrogance and racism that may further plague our global population if uncorrected.
The reaction of my family in Asia to the fact I am not wearing masks demonstrates just how different Eastern and Western attitudes are on this issue. Even though I am a non-clinical faculty member in medical and public health schools, with constant access to updated recommendations of infection prevention, my family continue to offer to send me masks. I have tried to reassure them by describing my meticulous hand hygiene regimen. But their anxiety continues even after I recite the Center for Disease Control and Prevention (CDC) and World Health Organization's (WHO) recommendations.
The opposing attitudes to mask-wearing expose not only different public health and cultural responses, but an intersecting current of epistemic arrogance and racism.
Back in January, it was obvious to the citizens of Hong Kong that masks were a sensible precaution against the virus. Many of Hong Kong's 7 million citizens had lived through the 2003 SARS epidemic. SARS, a respiratory illness caused by the same family of coronavirus as Covid-19, killed 299 Hong Kong residents, accounting for over a third of official fatalities worldwide.
I arrived in Hong Kong two days after the first confirmed cases of Covid-19 in the city. Residents were already bracing themselves for additional infections due to the city's proximity to, and busy traffic flow with, Mainland China which had already reported almost 2000 cases.  From toddlers to seniors, residents heading to family gatherings donned face masks along with their best outfits.  Having just experienced 9 months of crowded anti-government protests, people of all political leanings appeared united in what they thought would best protect themselves and others.  The sick and the asymptomatic were equalized behind the masks, with their common vulnerability on full display in solidarity.  People who did not wear masks in public were exceptions, often met with shaming stares from strangers and perceived as being defiant, arrogant, and selfish.  Neighboring cities and countries such as Macau, Taiwan, South Korea, and Japan showed similar widespread mask use alongside other public health measures to test and isolate (potential) patients.  The public discussion focused on how to wear masks properly and where to acquire them, and these governments responded with increased procurement and fair allocation schemes to ensure access for their health workforce and citizens accordingly. 
Even though I wore a mask for my full four-day trip to Hong Kong, that ended when I exited the San Francisco International Airport.
Outside of Asia, however, a very different story has unfolded.  Even as the WHO finally declared the spread of Covid-19 a global pandemic in mid-March, both the CDC and the WHO recommended only symptomatic people, front-line clinicians, and family caregivers for sick relatives wear masks. Early data showed that the virus is transmitted through large droplets, close contact, and possibly small aerosols, and masks may prevent the spreading of the virus via coughing or sneezing. The CDC and WHO explained that, for healthy individuals, masks – especially those that do not form a snug seal around the face – would unlikely prevent the wearer from inhaling small airborne particles that can cause infection.  The US Surgeon General emphatically urged on social media against asymptomatic people from using masks.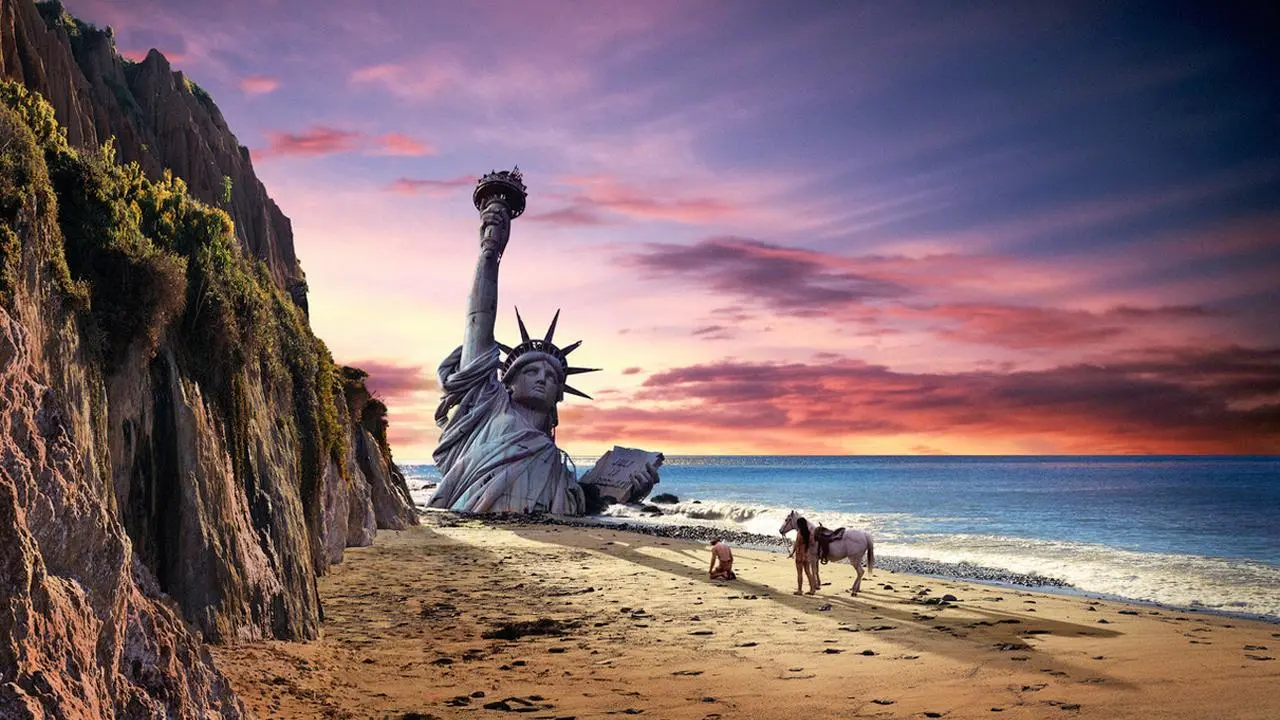 SUGGESTED VIEWING The Crisis of the West With Hilary Lawson, Philip Collins, Kwasi Kwarteng, Gita Sahgal
Such sentiment and recommendations persisted despite disquieting data from China, the Princess Diamond cruise ship, and Italy suggesting that many patients do not exhibit significant symptoms in the early days of diagnosis or ever. Given the continuing shortage of tests in the US and lack of federal coordination, many symptomatic patients are not tested, let alone apparently healthy individuals, meaning that asymptomatic carriers may be inadvertently infecting others and rendering contact tracing almost impossible.  Even as the US surpassed the Chinese and Italian confirmed cases in a short few weeks, people who wear masks in the US remain rare, and often get odd stares and jeers from others.  They are seen as being both irrational for using unproven resources to prevent transmission, and irresponsible for potentially denying the same resources for patients and caregivers.  
I declined my family and friends' mask offers partly over concerns about xenophobia.  Even though I wore a mask for my full four-day trip to Hong Kong, that ended when I exited the San Francisco International Airport.  People of Asian descent, particularly in masks, have been reportedly targeted in different cities, blamed for spreading the virus.  My mother tried to convince me that it would be better to endure racism than to fall ill, but I worried that a mask that represents but may not prevent sickness would simply perpetuate othering.  Moreover, I have colleagues and friends working at the front-line, so I was reluctant to utilize a scarce resource that the WHO and CDC insisted should be saved for symptomatic patients and our health workforce that is tirelessly fighting the pandemic. But if masks offer protection for asymptomatic family caregivers and health workers, would they not offer similar protection for non-caregivers who may encounter patients (e.g., at grocery stores)?    
A commitment to epistemic humility based on limited or evolving evidence is warranted.
There is no definitive evidence of masks' (in)effectiveness compared to no facial covering for preventing the spread of coronavirus.  It would be unethical to conduct randomized controlled trials – often seen as the gold standard of clinical trials – to test mask effectiveness for Covid-19 by exposing participants in a controlled group with no masks to the virus. But research on the SARS epidemic suggests that masks were effective at reducing the contraction and spread of SARS. In the current pandemic, countries in Asia with broad mask use have so far experienced greater success in containing the outbreak than in Europe and North America, where masks are either not used or unavailable.  Certainly, correlation is not causation, and regional variability may be results of other confounding and mediating local factors such as broad testing as well as well-coordinated and enforced quarantine practices.  There may also be concerns of under-reporting of cases in various countries.
Nonetheless, as governments and public health officials in the West continue to work with imperfect but evolving information, the battle against widespread mask use in some regions in the absence of strong evidence seems likely a form of epistemic arrogance that arose from and perpetuates racism.  People of Asian descent were (and are still) blamed by some for spreading the disease, and lessons from Asia in the early days of fighting the epidemic, including general mask use, were dismissed in many western countries. Such dismissal may sow further distrust and hamper other public health efforts.  While general mask use may offer minimal or no protection for airborne transmission, with proper education about other hygienic behaviors, it might offer other physical benefits by reducing direct touching of one's face.  More importantly for the anxious public, it may provide the psychological benefits associated with a sense of control, especially if one is concerned that potentially sick individuals may not be diligent in their own mask-wearing or lack access.  Interestingly, in a recent survey of Hong Kong residents, an overwhelming majority of respondents said they will deserve credit if epidemic is beaten, not the embattled city government.
Some US health experts are now shifting from chastising general mask use for Covid-19 to potentially promoting or even requiring public face covering.  At a time when governments raise concerns about the quality of expired stockpile in California and imported masks from China, scarves, bandanas, and even home-made masks of variable quality and materials are suddenly flouted as appropriate alternatives to medical masks. 
As institutional authority continues to be evoked despite epistemic uncertainty and disagreement among experts, to build public trust and cooperation, a commitment to epistemic humility based on limited or evolving evidence is warranted.  Such a commitment requires policy makers to be transparent about what data from which regions have been considered, how recommendations and guidelines are made, whether there may be different expert interpretations on the matter, and how such disagreements are further investigated and resolved.  Such a commitment may help to acknowledge our fallibility as a result of incomplete information and explain the need for continuing responsible data collection and collaborative international analysis to enhance our understanding.  Only time and additional high-quality data will determine the most effective strategies.  Mask or no mask, such commitment may help to promote collective sense-making that will be pertinent for public and global cooperation to fight Covid-19.