I was an Afrofuturist before the term existed. And any sci-fi fan, comic book geek, fantasy reader, Trekker, or science fair winner who ever wondered why black people are minimised in pop culture depictions of the future, conspicuously absent from the history of science, or marginalised in the roster of past inventors and then actually set out to do something about it could arguably qualify as an Afrofuturist as well.
It's one thing when black people aren't discussed in world history. Fortunately, teams of dedicated historians and culture advocates have chipped away at the propaganda often functioning as history for the world's students to eradicate that glaring error. But when, even in the imaginary future—a space where the mind can stretch beyond the Milky Way to envision routine space travel, cuddly space animals, talking apes, and time machines—people can't fathom a person of non-European descent, a cosmic foot has to be put down.
It was an age-old joke that black people in sci-fi movies from the 1950s through the '90s typically had a dour fate. The black man who saved the day in the original Night of the Living Dead was killed by trigger-happy cops. The black man who landed with Charlton Heston in the original Planet of the Apes was quickly captured and lobotomised. An overeager black scientist nearly triggered the end of the world in Terminator 2. On occasion, the black character in such films popped up as the silent, mystical type or maybe a scary witch doctor, but it was fairly clear that in the artistic renderings of the future by pop culture standards, people of colour weren't factors at all.
___
"Afrofuturism is an intersection of imagination, technology, the future, and liberation"
___
But then came the smash box-office success of The Matrix and Avatar. Both movies spoke to a re-envisioning of the future that weaved mysticism, explored the limits of technology, and advocated for self-expression and peace. The Matrix included a cast of multiethnic characters, the polar opposite of the legacy of homogeneous sci-fi depictions so great that even film critic Roger Ebert questioned whether The Matrix creators envisioned a future world dominated by black people. Then Denzel Washington played humanity's saviour in the Hughes brothers' post-apocalyptic film The Book of Eli. Wesley Snipes's heroic Blade trilogy inspired a new tier of black vampire heroes, not to mention a cosplay craze in which countless men donned the Blade costume.
Will Smith, summer blockbuster king and the consummate smart-talking good guy, was the sci-fi hero ushering in the new millennium. As an actor, he has saved Earth and greater humanity three times and counting, not including the time he outsmarted surveillance technology in Enemy of the State. Smith put a cosmic dent in the monolithic depiction of the sci-fi hero. He played a devoted scientist and last man on Earth working on a cure to save humanity from the zombie apocalypse in I Am Legend; he was the kick-butt war pilot who landed a mean hook on an alien and could fly galactic spacecraft, thus disabling the impending alien invasion in Independence Day; and he played a sunglasses-clad government agent devoted to keeping humans ignorant of the massive alien populations both friendly and hostile who frequent Earth in the Men in Black trilogy. In After Earth, Smith plays the father of a character played by his real-life son, Jaden Smith, on a distant planet some thousand years after Earth has been evacuated. Both men on a ride through space find themselves stranded on a very different Earth and the save-the-earth lineage continues.
These cultural hallmarks aside, a larger culture of black sci-fi heads have now taken it upon themselves to create their own takes on futuristic life through the arts and critical theory. And the creations are groundbreaking.
So what Is Afrofuturism? Afrofuturism is an intersection of imagination, technology, the future, and liberation. "I generally define Afrofuturism as a way of imagining possible futures through a black cultural lens," says Ingrid LaFleur, an art curator and Afrofuturist. LaFleur presented for the independently organised TEDx Fort Greene Salon in Brooklyn, New York. "I see Afrofuturism as a way to encourage experimentation, reimagine identities, and activate liberation," she said. 
Whether through literature, visual arts, music, or grassroots organising, Afrofuturists redefine culture and notions of blackness for today and the future. Both an artistic aesthetic and a framework for critical theory, Afrofuturism combines elements of science fiction, historical fiction, speculative fiction, fantasy, Afrocentricity, and magic realism with non-Western beliefs. In some cases, it's a total re-envisioning of the past and speculation about the future rife with cultural critiques. 
Take William Hayashi's self-published novel Discovery: Volume 1 of the Darkside Trilogy. The story follows the discovery of rumoured black American separatists whose disgust with racial disparity led them to create a society on the moon long before Neil Armstrong's arrival. The story is a commentary on separatist theory, race, and politics that inverts the nationalistic themes of the early space race.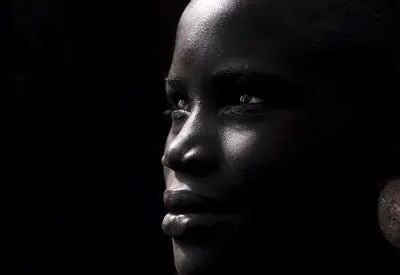 SUGGESTED READING What African Philosophy Can Teach You About the Good Life By Omedi Ochieng Or take John Jennings and Stacey Robinson's Black Kirby exhibit, a touring tribute to legend Jack Kirby of Marvel and DC Comics fame. The show is a "What if Jack Kirby were black?" speculation depicting Kirby's iconic comic book covers using themes from black culture. The show displays parallels between black culture and Kirby's Jewish heritage, explores otherness and alienation, and adds new dimensions to the pop culture hero. Afrofuturism can weave mysticism with its social commentary too. Award-winning fiction writer Nnedi Okorafor's Who Fears Death captures the struggles of Onyesonwu, a woman in post-nuclear, apocalyptic Africa who is under the tutelage of a shaman. She hopes to use her newfound gifts to save her people from genocide.
Whether it's the African futuristic fashion of former Diddy-Dirty Money songstress Dawn Richard—which she unveiled in her music videos for the digital album Goldenheart—or the indie film and video game Project Fly, which was created by DJ James Quake and follows a group of black ninjas on Chicago's South Side, the creativity born from rooting black culture in sci-fi and fantasy is an exciting evolution. 
While technology empowers creators, this intrigue with sci-fi and fantasy itself inverts conventional thinking about black identity and holds the imagination supreme. Black identity does not have to be a negotiation with awful stereotypes, a dystopian view of the race (remember those black-man-as-endangered species stories or the constant "Why are black women single?" reports?), an abysmal sense of powerlessness, or a reckoning of hardened realities. Fatalism is not a synonym for blackness.
---
This is an extract from Afrofuturism: The World of Black Sci-Fi and Fantasy Culture (2013), and republished with permission of the author.