I'm bored in the U.S.A
How did it happen?
– Father John Misty, 'Bored in the U.S.A.'
Recently I found myself teaching Donald Barthelme's now classic postmodern story "The Balloon" to undergraduate students in an American literature survey.  When I canvassed for reactions to the piece, I was surprised to hear a majority of the students describe the story as "boring."  Barthelme's surrealistic tale, in which an enormous balloon inexplicably appears over a large swath of Manhattan one day and elicits a bevy of citizen reactions, isn't exactly what one would call dull.  That's a little like calling Dali's drooping clocks tiresome.  Nevertheless, the story's dizzying language, weirdness, and lack of plot failed to keep some students' attention. 
But my students were in good reading company.  In The Pleasure of the Text (1973), even Roland Barthes admits he sometimes becomes bored while reading, though boredom's threat also ensures his readerly bliss.  Yet what is indicative of the reader's aesthetic freedom for the sophisticated Barthes, can feel to the novice reader like confusing chaos.  The initial moral of this story about a story might be somewhat obvious: one person's boredom is another's obsession.  
True as that may be, the boring can often be a starting place for discovery.  In fact, I managed to win over several skeptics by sifting through the seeming narrative nonsense and helping students to discover what mattered in the story and how we might engage with its strangeness.  It's basically what we literature professors do on a daily basis, point to how the patterns, forms, and structures in language and storytelling create meanings of which we're not always aware.  Teaching formally and stylistically complex works is especially challenging in this respect, but it's pretty fun to turn the boring into the interesting. 
The larger lesson here is that boredom can be counteracted, though never completely avoided, because attention can be directed as well as distracted, cultivated as well as captured.  This is an essential theme of the undisputed "king" of contemporary American novels about boredom, David Foster Wallace's posthumously published and unfinished The Pale King (2011).  The initial reviews of the book, which follows the personal lives and political intrigue surrounding a number of IRS workers in the 1980s, revelled in calling it a novel "about" boredom.  An Internal Revenue Service (IRS) novel, seriously?  Yet the "boring" parts of the novel—a description of IRS employees turning pages while auditing, for instance—are actually no more boring than other dense and difficult passages in Wallace's oeuvre.  
___
"We are increasingly gripped by stories without paying attention to story-making itself"
___
What Wallace brings to the fore in The Pale King is the way in which boredom constitutes an ethical dilemma in our contemporary era.  In one important section, the character Chris Fogle reflects upon his transformation from a "wastoid" to a dedicated IRS agent.  Fogle's tale, which Wallace purposely reports in a wandering, detail-overloaded way that earns Fogle the nickname "irrelevant" (a.k.a. boring), underscores the importance of harnessing our attention and committing to something in life.  For Wallace, we have the choice to direct our attention to what matters, which gives us perhaps some agency against larger forces that attempt to manipulate it to their own ends.  Being attentive may not be so easy in practice, and focusing on something means we miss noticing other things (just Google the Harvard experiment "gorillas and attention"), but it's imperative that we try.
Wallace's insistence on the dialectic of boredom and attention allows us to reconsider what constitutes a literature of and about boredom.  We can thus move beyond some of the more obvious candidates, old and new: the countless "existential" novels in which the routine meaninglessness of existence calls for some kind of radical change or revaluation of life (Saul Bellow's Dangling Man (1944) or Sloan Wilson's The Man in the Gray Flannel Suit (1955)); inspires violence and depravity (Albert Camus' The Stranger (1942) or Brett Easton Ellis's Less Than Zero (1985)); or leads to quiet desperation and futility (Ernest Hemingway's The Sun Also Rises (1926) or Edith Wharton's The Age of Innocence (1920)). 
We can also put down all six volumes of Karl Ove Knausgård's My Struggle (2009-2011).  To be sure, the Norwegian writer's categorising of the minutiae of Scandinavian life could be said to emerge as the definitive modern epic on boredom.  The sweeping Norse sagas here pass into a slow-motion dissection of the myth of the good life under state-sponsored socialism.  Slow down, you move too fast, Knausgård seems to be saying, but it doesn't exactly all lead to fun and feeling groovy.  Knausgård's struggle was many a reader's as well (myself included)—even just getting through book one.  
Let's add to this list the more novelistic conceptual writing of Kenneth Goldsmith.  Take Day (2003), which reproduces in toto the September 1, 2000 edition of the New York Times.  That day's news was apparently fit enough to be printed in a second book format, though I doubt anyone will bother reading it to find out.  Doing so would require even more fortitude than sitting through the combined thirteen-plus hours of film that is Warhol's hectic day-in-the-life of NYC's most famous skyscraper Empire (1964) and his edge-of-the-bed thriller Sleep (1963).     
___
"Choosing an already packaged narrative structure with which to organise individual and collective existence seems less like creating our own narratives than consuming them, and then becoming bored until the next one comes along"
___
If the intentionally boring or slowed-down is your thing—without even the tease of transcendence as in, say, Beckett's Waiting for Godot (1953)—then you'll probably find these works fascinating.  Nevertheless, in these cases you're not so much experiencing boredom as having a meta-experience of it.  You're only paying attention to the object in the first place because of its claim to artistic value, assured as it is by the brand-institutional stamp of a Warhol or a Goldsmith.  We're not gazing at a urinal, after all; we're gazing at a Duchamp.  We're not that stupid! 
Since our particular digital-age struggle with boredom is bound up with the problem of attention, then the best contemporary boredom novels ought to account for this.  Ottessa Moshfegh's My Year of Rest and Relaxation (2018), a novel about an unnamed woman who spends most of 2000 and 2001 nearly completely narcoticised and asleep, is well aware of its boredom motif.   At one point, the narrator even imagines an artist's painting as "'deliberately boring.'  Did he think that was an original idea?"  Yet the novel's action is skeletal, mainly featuring the protagonist's trips to a bodega and a therapist, and her brief interactions with a friend and an ex.  Avoidance of life is the point, particularly the constant news of local and global events: "I didn't want to read more than newspaper headlines.  I steered clear of anything that might pique my interest or make me envious or anxious."  For the narrator, her "hibernation was self preservational."  This is a calculated withdrawal from life, less an existentialist tale for the ages than one for our present times.  Moshfegh suggests that, instead of being enthralled by the media buzz, we ought to withdraw from its distractions and attend to our selves—not in a narcissistic fashion but reflectively.  What are we being distracted from and why?  In contrast to Wallace's Chris Fogle, for whom civic duty gives his life meaning, Moshfegh's narrator chooses "solitude and purposelessness" and a "goal of doing nothing."  This philosophy appears a difficult sell in the Trump Era, but Moshfegh ends her novel with 9/11, hinting that instantly reacting to a series of endless crises—instead of thoughtfully acting for the long-term—is a mode of distraction too and can lead to different kinds of disasters.  
 Potential disaster haunts the poet-protagonist of Ben Lerner's 10:04 (2014), a novel without a main plotline that flirts with being boring. Loose subplots include his donating sperm to a friend trying to conceive, preparing for Hurricane Sandy, thinking about art, poetry, collectivity, and capitalism, and writing his second novel—which turns out to be what we're reading.  But amidst all of this disorder lie opportunities for change.  When one character tells of her discovery that she was not Arab-American but a white American unknowingly "passing" her whole life, we see how fragile our life narratives are and how the stories we think we're telling often tell us instead.  Nevertheless, such moments also reveal the "utopian glimmer of fiction," since when narratives collapse we are reminded of the numerous virtual potentialities that exist in the present that have yet to be written.  10:04, via meta-and-autofictional forms, blurs life and art and becomes "an actual present alive with multiple futures" for both individual and collective life.  The novel's fractured and virtual narratives thus work to distribute, not focus, our attention on the contingencies inherent in numerous fictions, in vivo or utero.
Tao Lin's Taipei (2013), another plotless novel, invites lethargy.  It follows Paul, a depressed and alienated writer, as he aimlessly hangs out with friends, takes copious amounts of drugs, ruminates on stuff, and on occasion visits his parents in Taipei.  Nothing really happens, and it happens in Lin's simultaneously vague and pointed prose that mimics Paul's mind: "He felt like a digression that had forgotten from what it digressed and was continuing ahead in a confused, choiceless searching."  Yet Taipei is not just a generational selfie of digital-ennui.  It casts a wider inter-net than Hemingway's portrait of a lost generation.  By remaining aware and receptive in this miasma, Paul begins to feel that "the nothingness of the future had gained a framework-y somethingness that felt privately exciting [. . .] the beginning elaborations of a science-fiction conceit," a metaphor that evolves throughout the book: "he would sense the independent organisation of a second, itinerant consciousness [. . .] toward which he'd been sending the data of his sensory perception."  This obscure doubled consciousness represents the kind of algorithmic, timeless, social-media existence Paul and all of us must now face.  Paul fears this digital backup or "otherworld" to ours could become a techno-dystopia, but it also resembles the world of art and literature and the possibility of connecting with others.  Paul's final acceptance of death is thus ambivalent, for it may mean the same thing as accepting of our digital-life-consciousness in a simulated world.  We can't exactly be bored to death anymore, Lin suggests, so let's trace the contours of our mutating consciousness.       
These idiosyncratic novels by Moshfegh, Lerner, and Lin are truly contemporary takes on boredom.  Reproducing boredom qua boredom isn't the aim of these novels, though they wander at times, drifting here and there in form and content.  There's a disorderliness to each, a messiness that refuses to be narratively or stylistically tied up.  This is not to say that each novel isn't carefully composed, but that it gestures to what is teeming at the edges of language, the unwritten, the possible. In these works, consciousness experiences the world in inefficient and sometimes fortuitous ways, and we're not always sure where we're going.  Consciousness isn't in full control, but it isn't completely out of it.  Our attention is unfocused or put in a kind of suspended animation that allows us to reflect upon the act of attending.  And sometimes being "inattentive" or bored in such a way can lead us to noticing and imagining something unseen or new.
Collectively, these seemingly plotless or pointless novels risk being boring by eschewing conventional storytelling, by frustrating what creative writing workshops call the story's "arc," and by refusing to create psychologically "real" characters (all the provenance of the New Television, to be sure).  The current fetishisation of "telling a good story" or "wanting to tell x's story" not only sets itself resolutely against the possibility of boring the reader or viewer but also suggests that all of life is, and can be, neatly plotted and that "everybody has a story," as the current reign of the everyperson memoir or docudrama attests to.  We are increasingly gripped by stories without paying attention to story-making itself, to its forms, its genres, its styles, to the ways in which stories appears naturally to shape lives and worlds.  Take your pre-fab narrative and develop this, develop that.  As if all of life were merely a lead-in to a good obituary.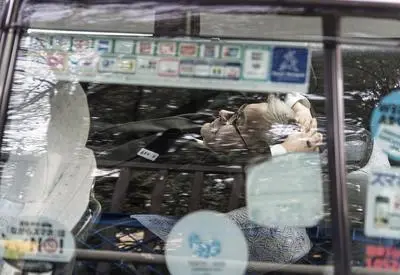 SUGGESTED READING The History and Politics of Boredom By Elizabeth S. Goodstein  These contemporary boredom novels upset the now clichéd notion that "we tell ourselves stories in order to live"—an all-too optimistic and criminal edit of Joan Didion's much more fraught statement in The White Album (1979) — "We tell ourselves stories in order to live...We look for the sermon in the suicide, for the social or moral lesson in the murder of five. We interpret what we see, select the most workable of the multiple choices. We live entirely, especially if we are writers, by the imposition of a narrative line upon disparate images, by the 'ideas' with which we have learned to freeze the shifting phantasmagoria which is our actual experience."
Today we are urged to take charge of our narratives, to write them before they are written for us, to make them orderly, meaningful.  But there isn't much freedom in choosing an already packaged narrative structure with which to organise individual and collective existence.  In the end, that seems less like creating our own narratives than consuming them, and then becoming bored until the next one comes along.  And as we're reminded daily, many such stories are just fake news, from James Frey to Brand Trump.  
Between the roiling flux of raw experience and the forms—whether literary, digital, social, political, economic, etc.—through which we attend to and filter that data, lies a threshold where experience is 'formed.'  These novels represent this unstructured space not as truly empty and boring but as full of potential.  They indirectly suggest that paying attention means making distinctions, choices, and forming meanings.  But more importantly the randomness of these novels emphasises the limitations of our consciousness to 'get' and control it all and reveals the surprises awaiting our inattention, our openness to disorganisation and chance.  And there's nothing boring about that.